Bio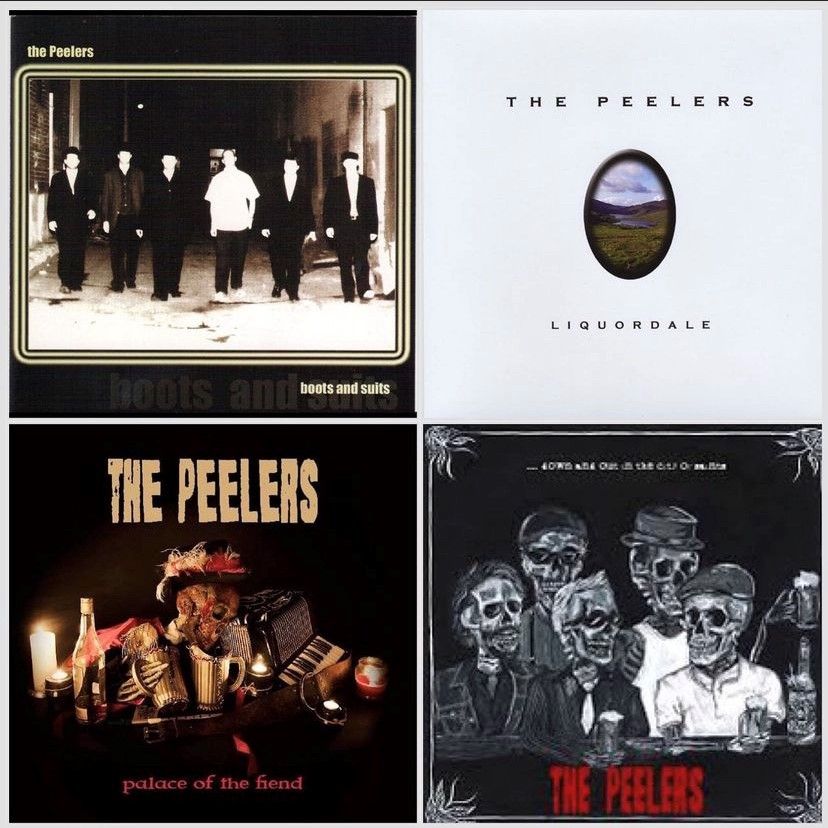 The Story up to Here
1999-2023
Now based in Montreal on the Stomp Records/ Union Label, The Peelers were formed in 1999 in North Glengarry County, Ontario. Heavily settled by Scots and Irish during the 18th and 19th centuries, Glengarry is primarily farmland that borders the mighty St. Lawrence River and NY state to the south, and is renowned for it's Gaelic culture, including music, dance, and the largest Highland Games in North America. Less than an hour from the city, singer/ songwriter Dave Barton and Irish Whistle player Eric Diamond, immersed themselves in an environment which smashed head-on into a love of whiskey, poetry, footy, Traditional Irish music, ska and punk. The band has evolved to become one of the most acclaimed Celtic punk acts in the genre. They don't just bend the rules of tradition with their blend of aggro & trad Irish - these long ball merchants tear it to pieces!!
Celebrating their 25th year in 2024, the band has travelled extensively and played a myriad of venues and festivals over the years including: The Savannah Irish Festival, Chicago Gaelic Park Irish Fest, Irish 2000, The Great American Irish Festival, Syracuse Irish Festival, St. Patrick's Irish Fest - Tipperary Hill Syracuse, The CFL Grey Cup Festival, Canmore AB Highland Games, Montreal Highland Games, Glengarry Highland Games, Almonte Celtfest, Beau's St. Patrick's Party Ottawa, 2003 Psycho Fleadh Tour w/ members of The Pogues, Ohio Celtic Festival, Eastside Irish Festival - Euclid OH, Pouzza Fest - Montreal, Montreal Ska Fest, Beau's Oktoberfest, South Glengarry Celtic Festival, Montreal St. Patrick's Parade, U.S. Open Snowboarding Championships - Stratton VT, Cortland NY Celtic Fest, Savannah St. Patrtick's Celebration on the River, Penn State St. Patrick's Party, Irish Rock Festival NYC, Guns and Hoses - Albany NY and more!
The band has four full length releases: 'Boots and Suits', 'Liquordale', 'Palace of the Fiend'. Then early 2021 saw the first release on the Stomp Records label, entitled 'Down and Out in the City of Saints'. 10 songs, recorded in Montreal, Dundee Scotland, and Vancouver between December 2019 and June 2020, and mastered for vinyl at Le Lab Montreal. In keeping with their more recent material, Dave Barton's songs reflect the North American experience of the diaspora with a tip of the newsboy cap to the Quebecois narrative and the lure of Boston and New York; blending truth and fiction, glory and sport, love and loss, darkness and despair, while introducing composites of individuals, companions, friends and foes met along the musical journey. There's even a track dedicated to Irish middleweight professional boxer, 'Spike' O'Sullivan, who the band calls a friend, appearing in the video for the song.
All albums have featured key guest appearances including: Johnny Fay of 'The Tragically Hip', 'Gleadhraich' Scottish bagpiper Craig Weir, who's performed with Queen, The Kaiser Chiefs, and The Libertines amongst others. Dan Garrison of Vancouver's' 'The Corps', Econoline Crush, ex 'Real McKenzie', and Celtic Punk stalwarts Finny McConnell, and Sean 'Riot' Ryan of 'The Mahones'.
The band is set to release their brand new full length album in early 2024, along with a remastering of their critically acclaimed second album 'Liquordale', and vinyl releases for both the former and 'Palace of the Fiend' all in time for the band's 25th anniversary; still going strong, still 'clearing the way', still burning down stages, and making some of the best new music in the genre with purpose and intent.
MUSIC! 'Katie Bar the Door', written by Dave, our most listened to track across all platforms, including 2.3 million streams on Spotify alone! Covered by several bands, and considered for use in a J.J. Abrams TV project, and the hit show "It's Always Sunny in Philadelphia".